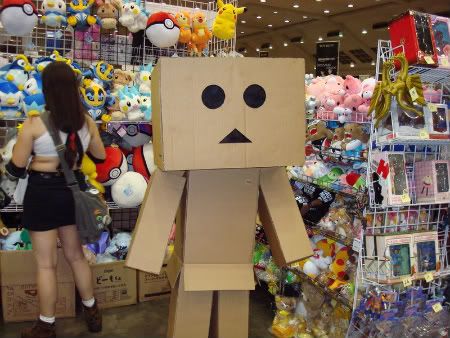 I planned to be a Danboard also but it was hastily put together so when I saw this on the street on the way to my hotel… I just gave up and threw it away. Perfectly made. Either way. Warning: A long post.
I had quite possibly one of the best weekends ever and it may be my best con experience out of 6 overall attempts (4 Otakon Trips, 2 AUSA trips). By now, you'd think I'd get bored of cons, but well, it's places like these where it's just okay for you wear that damned Naruto headband. It's okay. For three days only will I accept the silly hand motions you make just to eat your cheeseburger. For three days only, I will accept you walking around and yelling "Sugoi" at every reference you may get. For three days only, up is down and and gay is straight while straight is yuri.
The thing was, I didn't even do that many things… Otakon-y. My wonderful experience pretty much came from being able to meet so many other bloggers and spending time with two in particular. I dont even know where to start. I'll go chronologically but so much happened this weekend I really dont think it's all sunk in yet, really. Man, I'm really out of aniblogging shape.
Thursday was key as I went to pick up my badges early. Saw some cosplayers, but I dont see why you would do it on a day when there is NO CON ACTIVITY. Oh well, just like how no one cares about Nina, they do all they can to be noticed.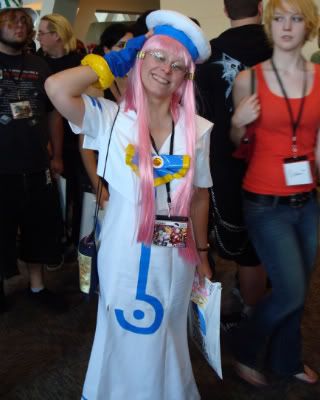 —
Friday. So with my tickets already in hand, I was able to sleep in a bit longer and didn't get to the convention center until around 11. I used to be all about getting there as early as 7, getting in line, and going to panels, panels, and more panels, all with a glimmer of hope of . This year, they didn't seem that interesting and it started off on a different foot as the moment I reached my hotel, Baka-Raptor called me. And let me tell you, he's just as dashing in person as he looks in his Talk-a-Raptor segments. Homobloggerotic comments aside, we first wanted to check out the Dealer's Room but the line was longer than it took for Suzaku to realize he was gay so we headed for a Yuri panel… Uhhh, hypocryitcal comments aside, it was a HORRIBLE panel.
Let me note that I REALLY despise Erica  Friedman. SHE IS A BITCH. Excuse my french but man, she crossed that proverbial line. I hate her just as much as Geneon. Hell, they're pretty much one and the same for what they did. It's a good thing that she wasn't giving away freebies, otherwise she probably wont let me answer a question "Because I'm not a girl". First, I already hate her a little for saying that Aria is yuri, but she's so deep in her own little world, fapping her e-penor in real life that she cant realize that Touko is a Grade-A bitch in Marimite. I mean, yeah, she's a bit better later in the latest OVA but that doesn't change the fact that the way she acts is bitchy OVERALL. Fine, I'll have to re-watch to make sure I'm just not jumping the gun, but just cos you have a liking for -what did she call it- "psychotic homocidal whores" or something like that, doesn't make Touko a better person. Little did she know, the next day, Lolikit was there with me and we stood in front of her booth for a while pondering whether to just go up and punch her or not. We decided not to because she looked a bit old and we dont beat senior citizens often. Kudos to her for watching Last Friends, though. Good drama. Note: She's an old man-looking lady with a mullet. That photo she has on her blog is a lie. I also met DigitalBoy. Didn't get to talk much with him, but he seems cool.
The dealer's room is the biggest draw for me every year. Only there is where I can look at anime goods and not feel embarrassed. I'm a real closet fan in real life so this is pretty liberating. I got a ton of manga, half of which I've read already but just wanted to own. I really wished I could find the Aqua manga too but the two volumes of Aria will do for now. I also cant wait to collect all 34 volumes of Beck and I'm glad I could find a copy of Palette of 12 Secret Colors. The only thing I was able to haggle for was my set of Lucky Star phone straps. They're so ridiculously cute, I dont want to take them out of the packaging but when my Hello Kitty one breaks, Tsukasa is first to go. She's just DESTINED for my cell phone… I go through more phone straps in a year than a pubescent Japanese school girl, by the way.
I also met Pip that day and hung out a lot with him. I've been waiting for so long to meet him as he's one of my best boys. We saw the Otaku Idol thing together and I was mildly impressed. I'm glad the girl I liked best won, though. Kudos to her. SHE GOT SOUL. -By being here I missed the Touhou panel and the j-drama panel. Damn-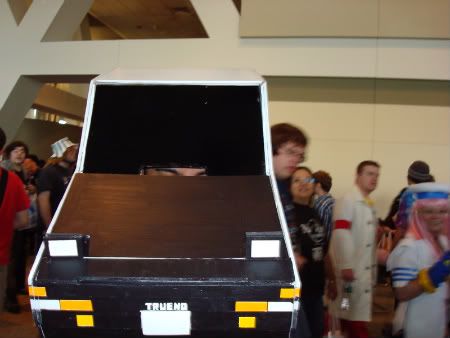 —-
Saturday was a BIG day for me. First there was meeting Lolikit. Him and Pips fill the holes in my heart and I was happy to just hang out with them. They were pretty much with me the whole day.
The first thing we did together was hit up the AMV competition and I was BLOWN AWAY. I went through a brief AMV phase ages ago but now I really want to try. The quality at places like this is way better than the ones I saw at smaller cons like AUSA. I was very impressed. My favorite is linked above.
Not gonna lie, my memory is very blurry of what happened on Saturday as it was SO awesome, I was pretty much overloaded. It was today that I met some amazing bloggers. This MADE my con experience. I was greatly honored to meet Omo and Moy because they're my senpai. Omo just oozes experience and sage-ness while Moy was surprisingly just chill. He'd someone I'd feel comfortable just hanging out and chilling with on a normal day. I also met TheBigN. He is indeed big… as in HE HAS A BIG HEART. He's so tight, I wish I could've hung out with him more. He emits this warm essence. Oh, and his internet handle… LAWL. Gold.
I briefly met up with Ten and Anna, who co-blog with me. They're very nice ladies who I would love to just sit down and talk dramas with if that day wasn't so hectic… and they were so eager to… get away… from me. DAMN.
There's also Wildarmsheero and Link. I met them last year. They seem to have forgotten who I am but remembered my face. Good times. I leave good impressions.
I'm also incredibly disappointed that I missed super rats, Momotato and Scott. These senpais I greatly respect and would be in awe if I met either. I planned to meet Scott but just never got to it. I regret it now.
I wanted to go Karaoke with them all but me, LK and Pips went back to the hotel room and made another episod of the All-Porn Podcast. It was hilarious to be there in person and very shameful at the same time. Like I said, these guys complete me.
I dont know where to put it in, but me, LK and Baka-Raptor went to watch some Masquerade skits and some were funny, I accept but a bunch of them were just plain… well, it was like watching Girls High again. Add that to the fact that a 100% stereotypical weeaboo sat right behind us. She would laugh at everything and ANYTHING that she got the reference too. She would also yell "SUGOI" at every possible chance and whooped so loudly in my ear, I was hoping I'd go deaf so I could no longer hear her. It ruined my experience. Maybe… maybe the skits were actually funny, but I couldn't appreciate them at that point. THE SEAT WAS EMPTY WHEN I GOT THERE. WHY DID YOU HAVE TO SIT THERE?! WRYYYY?! I didn't look at what she looked like but LK could confirm that she looked like one. That's why I look down on many fans until they prove that I dont have to.
I barely do this day justice with all I've written, but it was epic and I would give to relive it again… except for the masquerade.
—
Sunday was much slower as I just wanted to buy cheap stuff and then head home. Watched some more AMVs in the morning, got my stuff, and then headed home. At that point, I was incredibly tired and going off pure energy.
But like I said, it was sick. JUST SICK.
Oh and note, I dropped the proverbial "ball" when it comes to photos this year. I just didn't really feel like doing it, and add that to the fact that I forgot to put a memory stick in AND bring a charger for the battery, I just sucked on that aspect. I wont put up the pictures I took with the other bloggers as they're just for my joy. I REALLY want a picture of moy and omo but my camera died right as I turned it on. MY ANGUISH. Lowest point of the con… yet highest at the same time. Mix bag. Here's that feeling again I get every year after a con: I… sorta miss all of it. Less than 364 days to go, though.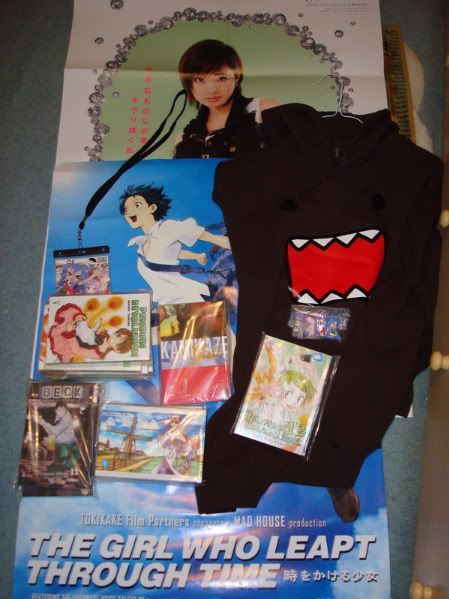 My loot. I got that Aya Ueto poster for free. I was Os-static.
I've already read all of the above but you can never have enough shoujo.