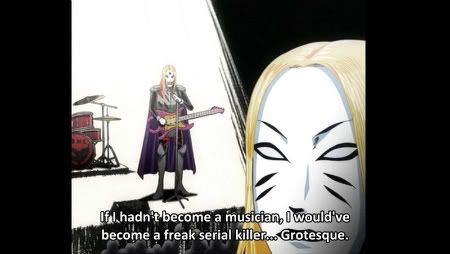 You know what I say to that? LAPE LAPE LAPE SETSUGAI SETSUGAI SE YOOOOO~
Okay, enough of that. I mean, how funny is this show? It's literally IS laugh out loud funny.
I was first very skeptic about it at first, I admit. I had the OVA just chilling on my laptop for a long while and it was only when I saw the trailer for the live action DMC movie, I immediately had the urge to go check out the OVA. Add that to the fact that this is animated by Studio 4 [Degree] C, I thought this would just be another one of those weird messed up shows that just scares the crap out of me.
Okay, so this is show IS one of those weird messed up shows that scares the crap out of me. Huh. Go figure. Yet, I cant help but enjoy this show immensely. Could it be the fast pacing, the comedic timing, and/or the overall low budget animation? Whatever it is, I'm hooked and I look forward to the next episode… or half an episode, if you consider 23 minutes a full episode. POINT IS, IT'S KICK ASS.
As for the title of my post, my roommate reluctantly watches this show with me. He's only watching it because I'm pressuring him to watch it with me. My two other roommates are slowly growing to like it. They'll be DMC-heads soon enough.
Is it just me that's facing this type of resistance? DOESN'T EVERYONE LOVE THIS SHOW? They dont believe me when I say it's popular. "If I hadn't watched this show, I'd become a serial killer"… errr. Yeahhhhh. What he said.
Other DMC-Heads that I could scrounge up:
BlueFoxAlley
Otakuism II
Anime wa Bakuhatsu Da!
Furuanikmepanikku
Hikikomori-Chan
Anime Diet