For the summer, I work with kids. Not this type of kid. No kid is ever as pure or as cute as Yotsuba, but there are some cute ones… and some devil ones. But no, I'm not going to recount a horror story with one of them -there are plenty like when a kid got hit by a golf club-. This is more tame.This particular story involved one of the "senior" students, aka 7th grade.
I had to open up this box of games and I had to pull out my set of keys to open the wrapping and on my keys is my Yuki Nagato keychain. And the conversation is as such:
Whats that? *points at my flashing Yuki keychain and grabs it*
-It's a keychain.
What is it of?
-A cartoon.
What show?
-It's called Haruhi. Your probably haven't heard of it.
Why does it say "SS" on it? (note: it says SOS but Yuki's body covers the O so it's just implied)
-That's just the name of the group in the show.
What kind of show is it?
-It's Japanese.
Oooooooh… Looks dumb.
-Ahhhh well… Let's play Ker-Plunk now, Karl.
—-
Obviously this was going nowhere good. Either kids these days have amazing insight or foolish for not knowing of Haruhiism. I swear Haruhiism transcended all bounderies of age and time, but I guess not yet. I apologize for his imprudence, Aya-sama.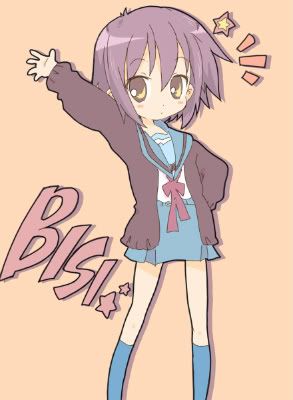 Oh, and Happy 4th of July to you Yankee Americans.