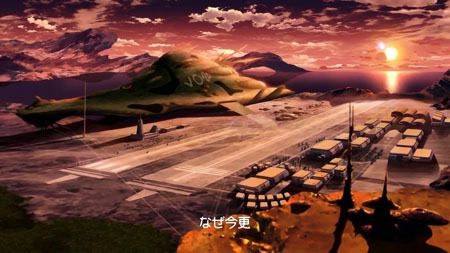 That's a Thorax from Eve. I'm sure of it!
I usually don't feel the need to go out and trash shows I don't like. Most of the time I just stop watching and never think of them again but Macross Frontier has offended my senses in such ways that I feel I have to vent for a bit. Hell, I owe it to any show that manages to disgust me this much to atleast say something about it.
First off, I don't mind fanservice. I can usually ignore it and rarely feels it detracts from a show that I otherwise enjoy but the way Macross presents just annoys the hell out of me. I mean it's just pure shameless pandering. I think they got every aspect of fanservice covered ranging from plain and simple sexual fanservice all the way to shota's; they even gave Ranka a fang this episode.
As if the pandering wasn't enough they even removed all trace of what little I actually enjoy in this show — the space battles and those alien thingies — and replaced them with all the things I hate about it namely Ranka(don't worry, I hate Sheryl too), stupid pop songs, and badly thought out story premises. I probably missed out on some vital information somewhere since I wasn't really paying attention but Sheryl and Alto goes to a planet where a bunch of dissenters are holding hostages and demand that they get deculture or they will go postal. First off, and I cannot let this pass, the word deculture by itself should mean the removal of culture by default and no matter how bad it is a song is still culture. I have a feeling this is something prevailent throughout the Macross universe though, so maybe someone more knowledgeable than me could fill me in on the word.
Secondly, militant idol-fans demanding a live concert or they'll start killing hostages? Comments are superfluous. Anyways in flies Ranka with a prototype mecha thingie that can fly through the inconvenient warp fluxes or whatever surrounding the planet. Apparently she went with all the extra options at purchase as well as it comes fully fitted with external loudspeakers for her guerilla concert needs. She 'treats' us to two songs and everyone becomes friends again. Except for the dissident leader. Who Alto finishes with a dong-strike. That was totally the best part of the whole episode.
Btw, I'm definitely gonna watch the next episode.