NO! KNOW YOUR PLACE.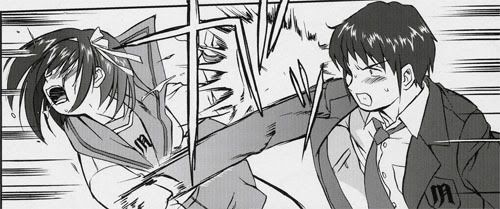 I was killing time at my local Borders a month or so ago-read: reading their stuff for free- and I decided to pick up an issue of Anime Insider. Before anime blogs, I would always read Anime Insider because NewType was always shinkwrapped and well, there were no other magazines. I even had a subscription at one point. But the more I got into anime blogs for my latest news, the more I looked down on ani-mags.
But… it can still have its perks. It was thanks to A.I. that I found out the Honey and Clover manga was coming out for example, and there are some interesting articles every once in a while. In this issue that I picked up, I read some interesting fan-letters. This one in particular, was trying to stick up for fellow Narutards.
It was some real pathetic stuff. This reader said something along the lines of: "Just because we love Naruto and we like to dress up every week does NOT make us weird. We love this stuff and we want to show it. If we feel comfortable, it's okay!". Stuff like that. And the reply from the guy took me by total surprise and even got some laffs out of me.
-Forgive me as I do not have the magazine in front of me so I cannot produce proper quotes-.
"YEAH! I spend $5 for pocky at cons!"… go to your local Super H Mart and get it for $.89
What he said in reply was something like: "Yes. You ARE freaks. No one dresses up at school. [High] School is a place where if you do that kind of stuff, people will DEFINITELY look at you weird and then you will ultimately give "anime fans" a bad name"… And he has a point. I was actually expecting him to be understanding and accepting for the sake of these Narutards but he smack some truth down on them. This weirdo in my grade last year wore to school that dress-jacket thing that Sasuke's older brother wears and he is the epitome of weirdo/loser. I sound like an ass, but you would understand if you saw.
Today, I picked up an issue again, just for more time killing, and once again, people Narutards were getting riled up, saying things like "Our imagination is limitless. Dont look down on us!".
"NO ONE MAKES ME BLEED MY OWN BLOOD! NODBODY!"
His reply? "Imagination and obsession are two different things. Go ahead and wear your headbands, but that does not change how you will be perceived in school for dressing up. Save it for cons where it's OKAY". I am starting to respect this guy. I may start reading A.I. again more often if only for this.
And this all ties back to a conversation I was having with my friend this afternoon. I was talking about our Otakon trip and it somehow lead to my uni's anime club. She told me that even though she only went to one meeting, we should both join so we can get free rides to smaller cons in VA. I, of course, responded with a resounding "NO".  I reasoned with her that those people are just too weird. I've seen how they operate. And well, in my mind they just look like Narutards.
Am I just being an elitist -I can accept a "yes" answer with no resistance-? I mean, in a previous post, I stated that I've seen about 57 days of anime. I like to think of myself better than the average fan, and definitely of a higher class than anime club kids. I generalize them all as Narutards, Bleachtards, etc. Did anime blogging make me that way? I mean, I cant say I live the healthiest of lifestyles but I hit up the gym at least 3 times a week, play tennis, basketball, golf, soccer, you name it -except baseball. I hate you so-. I CANT HELP BUT LOOK AT THESE PEOPLE AND JUST SCOFF. Not just me, right? Someone's gotta smack some truth down. To me, Narutards are not just the "smart and nerdy kids" that happen to be weird and like anime, they're the weird kids that are… well, they're just weird and grimy.
KNOW YOUR PLACE. WE MUST PROTECT THIS HOUSE.