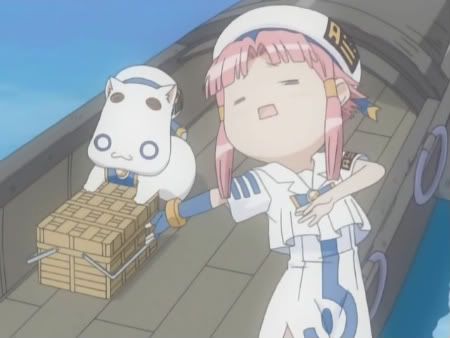 So I've just recently finished Aria the Origination and the thing that disappointed me the most was the ending theme song. Not only was it NOT by Round Table feat. Nino, it was abrupt and in your face unlike The Natural's. But the point of this post is not Origination, it is about ED themes in general.
I usually dont watch/listen to the full ED themes much, even if I really like 'em and despite the fact that they're only 1:30 long or so. In the cases where I do like the ED song, I'd listen to them a few times, and look forward to when the single comes out so I can grab it -eg: Soul Eater's I Wanna Be by Stance Punks-. Usually when I reach the ED theme, I just close the window and go on to the next show or whatever I'm doing.
Sometimes though, the ED can really hit you hard, but in the good way. The "My goodness. Natsukashii~. I love this song" way.
So let's stick with Aria for a moment as I use that for my first example. Episode 26, the final episode. It's one of my favorite episodes because not only was it very beautiful -I LOVE any episodes with snow- but they brought back Rainbow by Round Table + Nino. I got into Aria late so I downloaded a batch of the series. When I went to go watch episode 26, I thought there were two more episodes afterwards -because in the batch folder there were 28 files, the 26 episodes + one extra CM and a trailer or something-, and I had no idea it was the final episode when I went to watch it. So when it came to an end, I was breathless. The episode was not only visually great, it was great to hear and nostalgic too, thanks in part to hearing Rainbow again.
Hearing Rainbow, I remembered watching the first series one summer ago and all these memories of that summer came flooding back. It was a pretty good feeling, and it's times like those that cement a series as one of my personal favorites.
But it's not only Aria, but my favorite show of all time, Honey and Clover did the same too. Episode 13, about halfway into the series, the ED theme changed from Waltz by Suneohair to Mistake by THE BAND HAS NO NAME. Though I eventually grew to like Mistake, it did not have as much impact as Waltz.
For 12 episodes, you've associated their heartfelt pains with the ferris wheel seen in the Waltz ED… Then they go and change it. Lo and behold, when the last episode (24), came, Waltz was the ED theme and it was POWERFUL to say the least. Not only was I then remembering how awesome that series was mere seconds after finishing it, I will always that feeling whenever I hear Waltz -note: I'm actually listening to it right now as I write this post. I listen to a show's OST if I write about it. I started off listening to Aria's OST-.
So what made those songs so important to me? I guess it's like the saying that goes something like: "You only appreciate something once it's gone". I disliked it when the animation companies changed it up for me, but I grew to like the replacements. Yet, NOTHING can take the place of the original.
Now I know I only have two examples. But I'm sure it's happened in others? Anyone got any other examples? I'm drawing blanks at the moment.