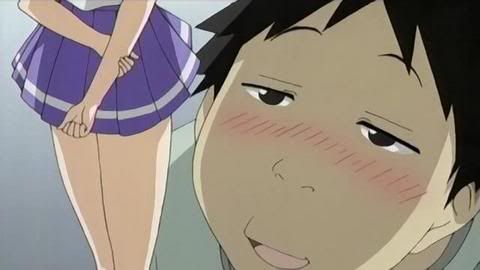 I haven't written a post in over a year. This blog is dead. To me and about 5 other people, we will look back on this website and think "Natsukashii~" (Get it? Because it's the name AND the expression! THAT'S how clever I once was). Others will look back, and scoff, especially after that last attempt to be funny. I doubt don't think anyone during my "time" (which I have deemed The Golden Age of ani-blogging) still blogs, either. Well, I can't say "doubt" because I haven't actually checked, but I think it's a safe assumption. I also think it is okay to claim that I am officially an "oldbie" now. I don't even know if Lolikit still blogs, and he's the one who hosts me. What I DO know, is that my hero Garten doesn't blog anymore. I always wanted to meet him, shake his hand, thank him, kidnap him, and have him tell me bed time stories… anything. Unfortunately, that stuff wont happen and  it seems I'm going off on a tangent already, so I'll get to that in a bit. I need to set it all up first:
The other day, I was killing time before going out to dinner, so I decided to check up on Anime Nano. After skimming the first two pages, NOTHING was familiar to me. "How could that even be possible?", I asked myself, but with more profanity and saying something entirely different (the idea is the same though). I used to check Anime News Network, Blogsuki, Animeblogger.net, Anime Nano, Tokyo Toshokan, and all these different blogs religiously. I would put aside at least an hour everyday to go through the works and catch up on the latest news and start downloading the "it" shows. I WAS AT THE TOP OF MY GAME. I KNEW WHAT EVERYONE WAS TALKING ABOUT. I WAS THE SHIT (hence the caps).
Now, I go to none of them, and recognize nothing (here, caps are only at the beginning of the sentence and proper nouns). Instead of reading up on all the new stuff by visiting the newer generation blogs, I decided to further live in the past and just go to "Anime Blog Directory" and sort them by popularity seeing how all my old friends are doing. I couldn't get past the third blog on the list before I had to leave, but an imprint was left on me.
Memento, the number one blog, is what inspired me to blog in the first place, and the only writing to ever make me cry. Now it's gone. I never got to personally talk to him, yet I felt as if a person close to me is gone. The second blog, Basugasu-something-or-other-osu, led me to messaging Hung, and I caught up with him a little bit. He's out of the scene, too, apparently. I then noticed Sea Slugs. Congrats on your 6th year, by the way. I always wanted to go on forever, like you guys. I saw that the title is still the same, but it's changed a bit since my Kono Sono days. Time waits for no one. All in all, things have changed since I used to roam that territory, but I wasn't able to give it another second's thought the rest of the night.
Flash forward to the next night. I like to get at least 8 hours of sleep when I'm on vacation time, and I had to wake up early so I went to bed at 2. Naturally, seeing as my sleep schedule is so terribly effed up, I ended up just lying there for what seemed like an eternity, tossing back and forth. When you cant sleep, your mind starts to wander to sports, food, missed opportunities at love, the works. I couldn't help but drift back to thinking about my old blogging days. Kono Sono (now dead), Karoshi (now dead), Heterochromia (now dead) and Natsukashii (now dead) all came flooding back to me. I started to remember the people I've met, the comments I've read, and the stats I once had: Over 1500 unique visitors a day, 500 returners, ridiculous amounts of hits from random ass places looking for some hentai. I LIVED for that (not the hentai part). I lived for the glory. I wanted to be recognized. I wanted to be remembered. "Natsukashii" was sort of like what one would call a "heat check" in basketball, I just wanted to test to see if we all still had it. It was a last ditch effort to drive in our marks on aniblogging history. Unfortunately, we didn't last but I appreciate the effort, guys.
Skip to Sunday. I thought about it at various points during the day when I wasn't napping or watching wild-card football. Pfft, football. What a non-nerdy thing to do. A bunch of sweaty beefed up guys hitting each other. Why not watch some moe anime? Why not watch shoujo? Why not watch anime, period, question mark.
That got me thinking, "Have I finally grown out of it? Was it a gradual thing or did it just happen one day?"
I dont watch anime at all anymore, but I still enjoy reading manga. I really like all my posters but I'm starting to get embarrassed by them even when no one looks at them. I still love Japanese culture, but now I'm totally into Korean culture, too.
The other day, my friend asked me if I was going to Otakon this summer. I told him yes, but I didn't know when I would stop. We didn't talk about it anymore, but it bothered me a bit. I went last summer, 2009, and it was vastly different from my other trips. I spent more time in the dealer's room than going to panels, and I didn't take a single picture. I started to feel a bit embarrassed. BUT IT WAS WHERE I FELT COMFORTABLE, DAMMIT. Sure, I am embarrassed for Narutards or people that take it too far, but I still liked the shit. Hell, I wouldn't even be here if Megatokyo didn't link one of my posts in the first place that got me really going. I'm attending again this year and buying a bunch of useless crap like I always do (mostly phone charms because I go through 3 per year, minimum). And when it is all said and done, I'll become normal again in the normal, hard as nails, real world.
Now that I'm progressing in my education, I realize that life's not all fun and games anymore. I wanted to be a publisher, so I could work with Del Rey -or something-, and do something I love everyday. What with this crappy economy, I've had to modify my plan. I am now becoming an English teacher with hopes that I can slowly get into the industry after I've stabilized myself. I'd even work for Tokyopop if need be. It's my third major change in as many years. I PLANNED on having my future revolve around this stuff, and now I'm slowly growing out of it? Some could argue that I was all but forced out of it. I think it's both. Talk about bad life decisions. Yet somewhere, deep down inside me, I think that if I DID get a job publishing manga, I'd at least be happy.
Truth be told, I'm having a hard time writing this. Hung made me do it. No. Actually, Hung gave me the idea and I wanted to get that high one more time. This blog post wont bring back my youth. I'm not getting back the many many hours I've put into this hobby. It wont bring back my stats nor my comments that I cherished so much, but lost when a random acquaintance I met on the internet stopped hosting me. It wont bring back the massive double digit skype sessions with the random people you've never met in your entire life, but you respect as a fellow anime blogger. Hell, it wont bring back the pride I once had in my expression of self.
This is more a blog post you'd find on livejournal than any anime blog post I've ever read, but I doubt anyone would read this far anyways. I'm not sure where I'm going with it, either. This is something for me to save and re-read one day. When I used to blog series like Ouran, it flowed out like water, it was beautiful to me. I initially wanted to make someone else cry like I once did, but I was lost to the glamor. Now, it feels like when I was near the end of my blogging career: a bit forced. In the end, this is really just for me. This is my nod of recognition to all the blogs I used to frequent but are now dead and to the community I once thought I'd never leave. I'm just raising my fist, walking away with my back to anime blogging… and maybe some cheesy music in the background.
"Did somebody say shoujo?!"
– Os