*image stolen from my dear Sasa*
Prediction: This image also probably has nothing to do with the story's atmosphere.
I had totally forgotten that this show was being made into an anime -I put it on my "Plan to Watch" list on my MAL– so it was a pleasant surprise to see that it's coming out this upcoming season. The past two seasons or so, I haven't been real interested in except for a show or two, so actually, it was more than a pleasant surprise, I got pretty excited. SO excited in fact that I took off my pa–… nah, I was just happy.
I really cant even explain why I like it. It's pretty much unlike the usual shoujo-y type shows that I love but it's just interesting enough to get me into it… the manga at least. I first picked up the volume for two reasons: 1) It's a Del Rey license. Del Rey, despite it being *slightly unnecessarily* priced $1 USD higher than the average manga, is one of my favorite companies and they've generally been licensing good series. Examples include Love Roma and Genshiken to name some off the top of my head. -plus, my goal in the future is to work for Random House Publishing, so I'm just jumping on their bandwagon now-
Reason 2 being: The cover of the first volume of manga looks pretty cool. Yeah, lame adjective, "cool"… why not "appetizing", you ask? What a stupid word, cool. But just look damn it, it's cool. Here on the cover, we have some unknown girl who just doesn't seem to give a crap about who you are, holding a guitar and wearing a scarf. It's girls like this that make you want to read them.
Okay, it was pretty much the guitar that made me want to get it more than the girl or the scarf. And with a title like Yozakura QUARTET, I was expecting some musical story. Here I am, still searching for my next Beck-ish experience, one of the best musical based series ever, but I digress.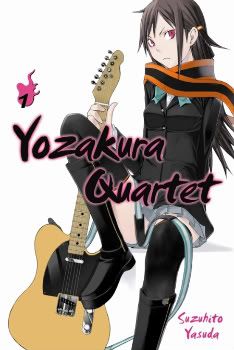 It turns out the manga has nothing to do with music. Sure that left me pretty disappointed when I ended the volume but well, the plot's interesting enough and the character designs are just visually appealing. A bit too far fetched to be a slice-of-life, yet it's a cute enough story of a bunch of kids with power trying to protect their city. Of course they're trying to take it a bit too seriously and have some hardcore villains later to be introduced but hey, it's a change of pace from what I'm used to.
What does this mean for the anime? Well, it is a manga with some action in it, and I'm curious at how they'll take some of the scenes. My hope is that everything will be mad-fast in pacing and just hard to follow yet just awesome enough to not make me want to barf like I was watching an amateur video of their kid's soccer game, but with them running right behind their kid. You know those. I cant wait especially of the girl who can just materialize her items by simply saying it… And okay, I'm just tired of Geass, also. So sue me.
Oh, and cherry blossoms. I'm a sucker for cherry blossoms and snow. Either way, sucky story or not, it'll HAVE to look good… right? They helped out with the animation for Honey and Clover and Ouran, how bad can it be?… right?
Worst Case Scenario: This becomes the next Special A- I'm so excited and pumped for it but I just end up being massively dissapointed after 2 episodes and just stop reading the manga altogether. "WHAT'S THE WORST THAT CAN HAPPEN?"