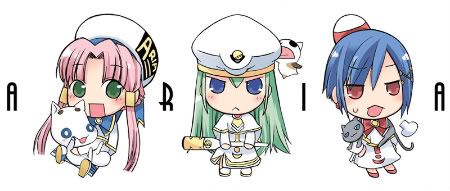 Tortoise Fansubs, you guys are geniuses, I give you credit. You wanted to do something original and you sure did: they subbed an Aria drama cd. First, they're awesome because it was an Aria drama cd. Second, it was a drama cd. I never even thought of that. NEVER did I think that drama cds could be… "subbed" the way they did it.
You see, they didn't just take the drama cd and translate it into a text file, they made it to an .mkv so it's like your watching another episode of Aria… except… you're just watching a still… picture. Think an eroge except… there is no naughtiness nor a change in the picture… look. It kicks ass.
Hopefully this is the beginning of so much more. I've always wanted to listen to a drama cd but because of obvious moonspeak reasons, I was never able to.
Plus, this is Aria. I'm not in a mood to write a post about the "Navigation 1" -read: episode 1-, but let me tell you, it was nostalgic, a wonderful feeling, and the time flew by just as fast as if I was watching a normal episode. I could picture it all in my head and I still felt the chills of something amazing.
Highly recommended for those just hankering for anything Aria.
—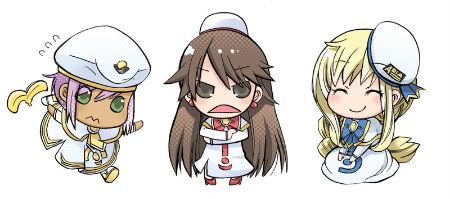 Oh, and if you're totally into this kind of thing, help them out. I want moar.
So let me end this post with something else Aria-related. This is a quote of a comment left by some user on the Aria torrent on Boxtorrents:
"I have no idea why people are saying this is an outstanding show, but I'll rate this as 7/10 at best. Sure, there's a nice setting of Venezuela to set the mood, and there are some heart warming parts here and there, with a slight kiddish touch to it to reinforce the slow paced show. BUT!!! In comparison to Fruit Basket… this is JUST, a mediocre show. With a small budget for 13 episodes, the plot isn't well developed to give   the audience, well at least for me, the tear spewing experience I had from watching Fruit Basket. Nor did it gave an everlasting heart warming experience that makes me hesitate  to even consider deleting this show to free a few gig of space on my hard drive. I seriously recommend only watching this show so you can get the prelude for ARIA The Natural (season2). And hopefully, season2 gives this show justice of what it could of been which I haven't downloaded yet D:
Similar show: Fruit basket. All the heart warming, tear spewing… -in short whatever Aria offers you will get from this show.
[insert a long wall of unnecessary text here]
Lol congrats for reading this wall of txt. Hopefully it's not done in vain."
I saved you the trouble of reading the rest of his/her comment but LOLOLOLOL.
Firstly this person doesn't really understand nor appreciate the pacing of a slice of life. I'm not sure they understood anything when it comes to Aria because after 13 episodes, they believed the setting is Venezuela. Do I really need to go on? Take that, Italy.
Next, they say that the Fruba anime is better. Now I believe the Fruba anime pales in comparison to the manga. Then again, I generally believe the anime adaptations cannot compare to it's manga predecessor simply for the looks. When you make an anime, the animator has to draw the same thing countless times so it's not as detailed thus not as pretty. So that takes away a little. Plus, the anime never really gives you closure and that's just damn annoying -note: I'm aware the reason for lack of closure was b/c they ended the anime before the manga, but still-.
But let's take the series as a whole. Is Fruba more "tear-spewing" and "heart warming" than Aria? I'd like to say no. The Fruba manga dragged on for far too long, milking it for what it's worth out of their bishies. Now the Aria anime, one can argue, also drags on for a long time, but it's the whole slice of life thing that makes it original for a long time. It's not always necessary to see the episode before to enjoy the current episode. And depending on what you've been through in life, every episode could make you 'spew tears'. Maybe I'm just being a d-bag. They're both very moving series, though, and I like 'em both.
Then this person goes on to say that the only reason you'd watch Aria the Animation is to get to season 2, The Natural… or so they think because they haven't even seen the show yet. They're just critiquing it off of assumptions alone. Buddy, it's more of the same and it's just as kick ass.
I dunno, I just felt this this slight pang of annoyance/anger. The same pang I get from reading something like Erika Friedman (scroll down a little bit) saying that Aria is yuri. Damn it, you bitch.